About Oconee Hill Cemetery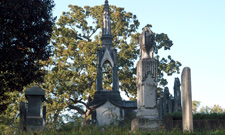 Since 1855, Oconee Hill Cemetery has become the resting place of a number of prominent citizens of Athens notable for their contributions to the history of the city, state and nation. The cemetery features tombstones of soldiers from all U.S. wars, as well as University of Georgia past presidents and sports legends.
Located off of East Campus Road adjacent to Sanford Stadium, Oconee Hill Cemetery is in the heart of Bulldog country just a hundred yards from Sanford Stadium.
Sexton Brian Adler also facilitates a variety of interment details should that be necessary. At Oconee Hill, the newly restored Sexton's House is available for receptions. Several preferred vendors are also available to assist with design, fabrication and installation of tombstones.
*The cemetery is closed to the public on gamedays.
Learn more about the Oconee Hill Cemetery by visiting their Web site.