Choosing Bulldog Haven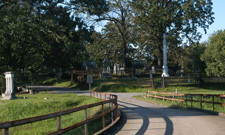 Bulldog Haven includes a limited number of plots in the historic Oconee Hill Cemetery. Individual plots are $1,500. Family vaults will also be available for those who prefer them and wish to invest in a more significant memorial. In addition, Bulldog Haven will have interment options for those contemplating cremation.
Private tours of Bulldog Haven are available. While on your tour, you will be able to choose your specific plot. If you would prefer to arrange your details in person, you can call Mack H. Guest III at 706.769.4048 extension 205.