Planning for the Future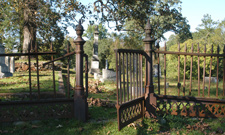 Planning for your future and making a decision about your final resting place will ultimately provide comfort and peace of mind for your family that is welcome during a difficult time. Preparations made now will benefit your loved ones financially, emotionally and spiritually when the time comes. It eliminates the financial burden of expensive arrangements and the emotional burden of making important decisions during a time of grief.
Planning now also ensures that your final wishes will be carried out, and that you will be celebrated in a beautiful setting in historic Athens and within earshot of the fall crowds at Sanford stadium.
This opportunity is open exclusively to UGA football lettermen and their families. Eligible family members include any direct descendent and spouse of lettermen interred at Bulldog Haven, either at their time of death or posthumously. Of course, plots throughout Oconee Hill remain available to Bulldog fans and the general public.